By Toby on May 22, 2012 | In Announcements
Mummy and Daddy took me to the vets this morning to get my blood pressure checked. The vets were a little busy so daddy left mummy to look after me whilst he went home to eat some chocolate.
Mummy rang daddy at 11am to pick us up after the tests were done by a nice lady called Nettie.
Nettie
Mummy then rang Sarah to see if the readings were ok. ?Sarah said they were so agreed that mummy could ring Jon, the leg doctor, to book me in for surgery. We were all shocked when Jon said to bring me in tomorrow morning at 9am !
I was so bewildered I went into the garden for a sunbathe and Lucy joined me as well.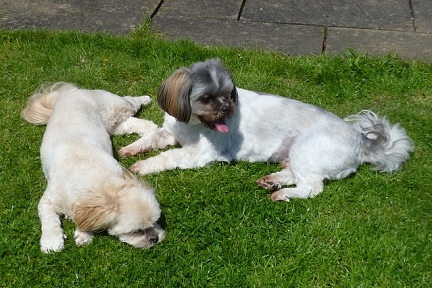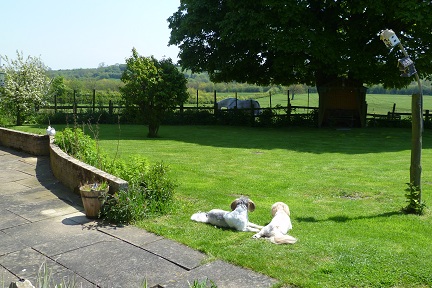 Can you spot the horse in the distance. Me and Lucy love chasing the horses and barking at them !
4 comments
Good luck for to-morrow, Toby. xxxxxx
22/05/12 @ 17:27
hope all goes well tomorrow will think of you love the pushchair i new it had to be pink but he is a boy and boys have blue it will confuse him.
22/05/12 @ 20:36
Hope it all goes well tomorrow Toby. We love you lots and lots and will have lots of hugs & kisses waiting for you after as well as some extra special treats for being such a brave little boy xxxxxxxx
22/05/12 @ 20:39
Missing you already Toby and can't wait to see you soon when your poorly leg has been mended, love you lots xxxxxx
22/05/12 @ 20:40
Leave a comment