By Toby on May 5, 2012 | In Announcements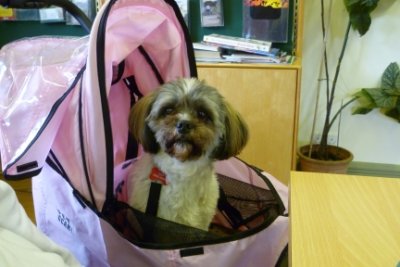 To prepare for my recovery, mummy and daddy have been busy buying things to help me get about.
Today, a special doggy pink pushchair arrived so I can be pushed around in style ! But PINK of all colours, I'm a boy mummy, not a Pink Princess like our Lucy !
I had my first outing in it when mummy and daddy took me and Lucy to Brierley Park for a walk and a bite to eat. M & D had grown up food for lunch but today, as a special treat, me and Lucy got a WHOLE SAUSAGE each ! How lucky are we :)
In the afternoon, daddy popped up town to get me some more bits, a play pen, a couple of stair gates, and clever daddy even made me a special ramp so I can get over steps easily without hurting my leg.
2 comments

Aahh, love the nice pink pushchair - can I have a ride please Toby? xxx
16/05/12 @ 15:19
AAAAh what a lovely picture. I'm sure you are a model patient and will get better soon. Bet you are enjoying all the fuss and attention though! xxxx
18/05/12 @ 05:58
Leave a comment