By Toby on May 23, 2012 | In Announcements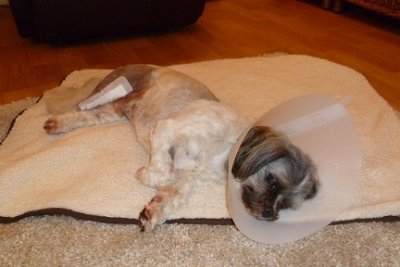 My leg is still hurting a bit so I made a few whines to let M & D know I needed a bit of love and attention. Daddy is sitting here tickling my tummy and mummy is rubbing my ears to relax me as I am very restless and can't get comfy.
M & D don't want to leave me alone during the night so daddy spends ages putting together a makeshift bed on the living room floor using rugs, old duvets and an old thin mattress. Not very comfy by the looks of things but m & d would do anything to look after me which I really appreciate.
We all snuggle down for the night with me in my play pen and m & d on the floor. About 5am ish, my leg is twinging a bit so daddy gets me out and we all snuggle up together for a couple of hours on the bed. Bliss !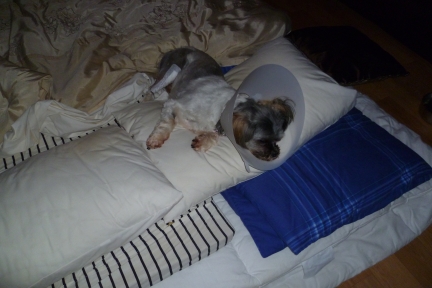 1 comment
So glad to hear that the surgery on your leg went well, we do hope that it isn't hurting too much. Glad that you seem to have M & D well trained and they are doing all the running around and not you. Make sure you get lots of rest and keep that blood pressure down.
Lots of love
Kay & Sarah
24/05/12 @ 13:29
Leave a comment