By Toby on May 24, 2012 | In Announcements
I have been lazing around most of the day, getting used to wearing my lamp shade collar.
In the afternoon, we popped round next door to show Auntie Madge and Auntie Julie my new push chair and they gave me some treats for being a brave boy.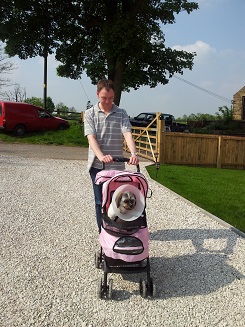 At night, we went to pick up Lucy from G & G 's and she seemed very glad to see me again and gave me lots and lots of kisses.
Daddy wasn't prepared and didn't have his camera ready to record the reunion

1 comment
You are being a brave boy and I am glad you and Lucy are together again. Does she want a lamp shade like you? I hope to see you both to-morrow and I will give you loads of kisses too. xxxxxxx
25/05/12 @ 08:34
Leave a comment