By Toby on May 20, 2012 | In Announcements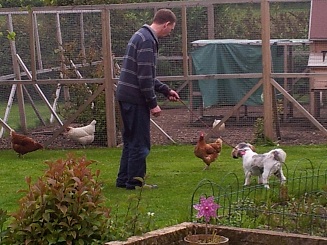 Tonight, Daddy let our chickens loose in the garden as they like to roam around and peck at the freshly mown grass.
I was feeling adventurous so asked daddy if I could go and meet the dirty girls. He put me on my lead in case the dirty girls got a bit flighty and we went to say hello.
They were a bit scary so daddy took me back inside !
And if you want to know why they are called the dirty calls, ask mummy who has to clean them out everyday !
No feedback yet
Leave a comment